Cardiology
Artis zee
Overview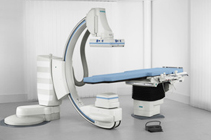 Meet future challenges confidently with Artis zee, our proven family of advanced interventional imaging systems. Artis zee features a wide range of configurations and cutting-edge 3D applications to fulfil any interventional imaging need. The ergonomically designed controls translate into an enhanced workflow that increases your efficiency. And with the development of new software applications for Artis zee, you also enjoy investment confidence ‒ and will stay on state-of-the-art technology for years to come.
Artis zee floor

Synchronized detector rotation
Both the flat panel detector and the collimator are synchronized and are always in line with the table. No matter how you rotate the table or the C-arm, the linear adjustment at any angulation ensures that you always see an upright image. The rotating flat detector and collimator allow an optimum level of patient access and provide superb anatomical coverage. Controlled at both the tableside and the detector housing itself, the rotation allows operation in landscape or portrait mode as well as any angle in between*, ideal for arm angiograms, while maintaining a heads-up display on the monitor.
Artis zee multipurpose system allows only landscape or portrait mode
Intuitive tableside operation
Artis zee features configurable, intuitive syngo icons that are easy to use. The complete system can be controlled from the tableside with the ergonomically designed touch screen and the mouse-like joystick. The mouse-like control is easy to operate, and with its modular design, can be flexibly positioned to maximize operator comfort. The slimline control module allows the operator to get closer to the table and allows easy patient access.
3D menu workflow
The menu-driven workflow enables FAST acquisition and display of 3D images. To improve efficiency, the system automatically moves into the start position, eliminating the time-consuming need for the operator to select the position manually. High-contrast 3D results are available in real time, soft tissue results in less than a minute.
Improve your workflow with "IsoTilt"
A single press of a button enables outstanding functionality. "IsoTilt" keeps the projection during Trendelenburg tilting and eliminates the need for time- and dose-consuming readjustments.
Artis zee Wireless Footswitch
With our well established wireless footswitch you will have more flexibility as an operator, easier cleaning of the footswitch and the floor, and no broken cables due to carts rolling over them.

Interventional Cardiology
Interventional cardiology is becoming more challenging. New procedures and devices are continuously introduced, resulting in ever-changing workflows. Both patients and staff are asking for the lowest possible dose during procedures, while clinical outcomes should be consistently improved and costs kept as low as possible.
Coronary Artery Disease
For diagnosis and treatment of coronary artery disease, you demand crystal clear images of the moving heart and of challenging cardiac anatomies in any angulation. To spice up the challenge, dose has to be kept to a minimum even during complex procedures. Our Artis zee systems deliver images in excellent quality and at low dose, displayed the way you like them best with CLEARchoice. A wide variety of software tools supports the toughest percutaneous coronary interventions. Find out how these and other smart solutions from Siemens can support you in your routine and advanced procedures for coronary artery diseases.
CLEARstent – Stent enhancement imaging
Optimized for image quality, CLEARstent supports you in precisely assessing and documenting implanted stents after deployment. Depending on the presence of contrast agent, you can generate a high-quality enhanced image of the stent or a view alternating between stent and contrast-filled vessel that is based on a dedicated acquisition or on previously acquired scenes. CLEARstent runs directly on your Artis system, requiring no workstation. And as it complies with the DICOM standard, you can save the results to PACS for review using any DICOM viewer.
syngo IZ3D – 3D visualization, quantification, and planning
Perform automated 3D reconstruction and analyses of single and bifurcated coronary lesions from two angiography images ‒ with syngo IZ3D. The tool helps to minimize out-of-plane magnification and foreshortening errors by calculating the true geometric shape of the vessel in 3D from two 2D X-ray projections. You can then easily visualize, quantify, and assess the vessel geometry with an interactive rendered view of the coronary artery. Cross-sectional circles support you in identifying the ideal projection plane. Improve clinical outcomes by planning and positioning virtual stents prior to deployment. And as their ends are indicated by markers overlaid onto live fluoro, syngo IZ3D provides reliable image guidance during the implantation.
Low-dose Acquisition – Low-dose protocols for coronary interventions
Some lighter built patients need much less dose for image acquisition. To meet the needs of these and other dose-sensitive patients, Artis systems provide special low-dose protocols. In fact, you can achieve dose savings of up to 67% compared to standard acquisition values ‒ and still acquire images in excellent quality. You can quickly and conveniently access the low-dose protocols, as they can be mapped to the alternative acquisition pedal of the footswitch. The scenes are automatically saved to the scene directory and can be used for result review and documentation purposes.
ACOM.PC – Cardiac image review and post-processing software
ACOM.PC software turns every standard PC into a professional cardiac review workstation. Image processing and diagnostic tools are tailored to the needs of cardiologists, internal medicine specialists, and cardiac surgeons. Connecting to the Artis system, PACS or standard network storage, ACOM.PC can be completely integrated into your department's IT landscape and also be used as nearline storage offering high-speed access to image data. ACOM.PC can be assigned to a separate display in the examination room for the parallel processing-like review of previous studies during ongoing examinations.
Structural Heart Disease
Treatment options for structural heart disease (SHD) are flourishing at a fast pace with the development of new devices, hardware, and software. These technological innovations can replace surgical procedures with percutaneous interventions, often allowing treatment of previously untreatable patients. This leads to new challenges for physicians and their team – as well as for imaging in terms of workflow or multi-modality integration. Siemens' syngo DynaCT Cardiac has revolutionized cardiac imaging, bringing intra-procedural 3D visualizations of the cardiac chambers and vessels of the beating heart into the cath lab. Based on this technology, we also offer software tools that allow fusion of other 3D imaging modalities like CT or MR for transfer of pre-procedural images used for intervention planning into your ongoing procedure. In addition, you can overlay points of interest or whole 3D structures and acquire peri-procedural 3D images for improved guidance during demanding SHD or vascular procedures. Dedicated workflow support tools facilitate procedures like transcatheter aortic valve replacement (TAVR). Find out how our solutions can support you in the dynamic and fast changing environment of SHD treatment.
syngo InSpace3D – high contrast 3D imaging
Create CT-like images of the heart in your cath lab using rotational angiography – with syngo DynaCT Cardiac. The high-quality 3D images support you in analyzing the cardiac anatomy to plan and guide complex SHD procedures. Fuse 3D volumes acquired with other modalities or mark regions of interest in pre- and intra-procedural 3D images, which can be overlaid onto live 2D images. Here as well, linking the C-arm to a 3D image helps you define the optimal projection angle – without additional contrast media or fluoroscopy.
syngo iPilot enhanced – Overlay of 3D information onto 2D images
Overlay 3D images onto live 2D images – with syngo iPilot enhanced. The 3D images used can be based on syngo DynaCT Cardiac, syngo InSpace 3D or other modality 3D volumes. syngo iPilot enhanced can support you during the occlusion of the left atrial appendage by acting as a 3D roadmap. It can provide you with crucial information when implanting the closure device to help avoid a cardiac tamponade and save contrast agent. By linking the 3D image to the C-arm, the overlay will automatically be updated if you change the C-arm angulation, the zoom factor or move the table.
syngo iGuide Toolbox – Procedure planning shown on 2D live images
syngo iGuide Toolbox allows you to overlay points of interest from 3D volumes onto 2D live images right on the Artis display. Using the linked cursor feature, you can quickly and easily import the points of interest into the 2D live images ‒ exactly matching the findings in the cross-sectional images of a syngo DynaCT Cardiac acquisition, for example. It takes just a single click to create anatomical outlines of segmented 3D volumes, which can be especially helpful for mitral valve repair or for vascular procedures like aortic aneurysm stenting. The information that is overlaid using syngo iGuide Toolbox is automatically updated should you change the C-arm angulation, the zoom factor or move the table.
syngo Aortic ValveGuide – Enhanced workflow and accuracy for valve positioning
Based on a 5-second syngo DynaCT Cardiac acquisition, syngo Aortic ValveGuide provides you with fast and precise 3D information on the aortic root anatomy – making it an excellent basis for valve implantation planning. The software automatically segments the aortic root and color-codes landmarks for the coronary ostia or the valve commissures. It indicates the valve cusp points together with a perpendicularity ring, measurement scales, and a centerline. syngo Aortic ValveGuide also suggests an ideal implantation view plane, which can be transferred to the C-arm for automated system movements. And in combination with syngo iPilot enhanced, the 3D valve image can be overlaid either in solid or in contour mode.
syngo InSpace 3D / 3D Fusion – Multimodality fusion
3D images can be helpful when planning interventions for an SHD treatment or for a vascular procedure. With syngo InSpace 3D/3D Fusion, you can easily and quickly fuse CT, MR or PET-CT images for your ongoing procedure by using high-contrast 3D images or syngo DynaCT datasets. You can transfer and overlay onto live images either points of interest you marked using syngo iGuide Toolbox or 3D images using syngo iPilot enhanced.
Electrophysiology
Innovations in electrophysiology (EP) have created a strong demand for highly integrated solutions capable of supporting smooth workflows for increasingly complex procedures. Radiation exposure during EP procedures is a continuing concern. Excellent image quality and lowest possible dose are vital requirements for patient and staff. Therefore, Siemens has put together one of the most future-oriented portfolios for electrophysiology: truly integrated solutions for enhanced patient care. Covering everything from imaging and recording to 3D guidance and co-registration with the latest mapping and navigation systems. Smart solutions designed to set new standards of care, safety, and efficiency for your EP lab.
syngo DynaCT Cardiac – Ungated and ECG-gated CT-like imaging of the heart
With the help of rotational angiography, syngo DynaCT Cardiac creates CT-like 3D images of the beating heart directly in your cath lab. There is no need for pre-procedure CT, and you get high-quality 3D volumes during the case. ECG-gated acquisition enables visualization of the coronary sinus and the ventricles for procedure planning. Special low-dose algorithms can be used to fuse 3D angio images with CT and MR.
syngo InSpace EP – Time-saving one-click LA segmentation
With its convenient one-click segmentation, syngo InSpace EP allows you to quickly and effectively segment the cardiac chambers, thus reducing time-consuming manual interactions. Excellent AFib ablation planning by visualizing the individual LA morphology, improved orientation and catheter guidance during mapping and ablation and esophagus visualization for reduced risk in AFib procedures are three benefits. It allows you to view inner surfaces of segmented chamber with a clipping function and an easy point tagging function to plan the ablation path and for documentation purposes.
syngo iPilot enhanced – Overlay of 3D information onto 2D images
Enhance catheter guidance during ablation with syngo iPilot. Application provides an overlay of 3D segmentation results (from syngo DynaCT, CT or MR) onto live fluoroscopy. It allows overlaying pre- and intra-procedurally acquired 3D volumes onto live fluoroscopy or acquisition.
Interventional Radiology
Interventional radiology treats disorders in nearly every organ of the body – except for the brain and heart – via minimally invasive, image-guided therapies. The procedures are manifold and range from revascularization of occluded vessels and shaping new vessel beds such as in AAA or TIPSS procedures to occlusion of blood flow, e.g. in tumor embolization or endoleak repair. Especially interventional oncology procedures, the area of highest growth, show overwhelming progress in therapies closely related to innovations in ablation devices and embolization material.
We at Siemens are committed to providing excellent 2D and 3D imaging of patient anatomy and function, as well as of interventional instruments at the lowest reasonable dose in a world of continuous miniaturization of devices. We support the interventional radiologist in keeping pace with procedures that are becoming increasingly complicated. Our tools assist in complex clinical workflows enabling treatment planning and guidance as well as verification of treatment results, making procedures safer and quicker.
syngo InSpace 3D
High-contrast 3D volumes acquired with an angiography system. Both subtracted and unsubtracted images may be used. The reconstructions result in maximum intensity projections (MIP) and volume renderings (VRT).
syngo DynaCT
High-contrast 3D volumes acquired with an angiography system. Both subtracted and unsubtracted images may be used. The reconstructions result in maximum intensity projections (MIP) and volume renderings (VRT).
Large Volume syngo DynaCT and syngo DynaCT 360
Two unique features of our revolutionary Artis® zeego® multi-axis imaging system offer an extended field of view (Ø 35 cm x 24 cm; or Ø 45cm x 18.5 cm in Large Volume landscape mode) in cross-sectional soft tissue imaging for superb intervention planning, feeding-vessel identification and results verification.
syngo Dyna3D HighSpeed
The fastest 3D protocol (report) on the market, permits a short acquisition time of less than 3 seconds combined with the Artis zeego, allowing moving organs like the lungs to be represented with fewer notable motion artefacts.
syngo iDentify
The dual-volume visualization for enhanced decision-making during intervention enables the differentiation between two high-contrast 3D objects that have virtually the same contrast density or allows the display of syngo DynaCT and 3D Angio in one view.
syngo InSpace 3D/3D Fusion
Enables previous CT, MR or PET CT images to be fused with high-contrast angio 3D or syngo DynaCT datasets. syngo InSpace 3D/3D Fusion not only displays relevant diagnostic data from other modalities in the angio suite but serves as foundation for exact overlay of 3D volumes and planning data onto live fluoroscopy during treatment (using syngo iPilot®).
syngo iPilot
Effective device guidance during interventional procedures, providing a simultaneous display of the live fluoro, roadmap or acquisition image and a matching 3D volume or planning data to facilitate guidance during complex interventions. The system updates dynamically to movements of the C-arm, table, zoom, and source-to-image distance.
syngo iGuide
A superb needle path planning and guidance application that supports real-time, integrated needle navigation in the interventional suite in three easy steps. As an option, the unique cross-hair laser light integrated into the detector marks the skin entry point and needle path direction and saves dose for the interventional radiologist and patient.
syngo Embolization Guidance
Provides an embolization planning and guidance tool. Based on e.g. two clicks that mark a vessel or vessel segment, the vessel centerline is automatically extracted and can be overlaid onto the live image by using the syngo iPilot® functionality. In addition, structures such as tumors can be segmented and their volume is automatically measured.
syngo iGuide Toolbox
Overlay of structures or markers from 3D volumes onto 2D live images offering 3 features.The linked cursor feature mirrows a cursor placed in the 3D dataset onto the 2D live image. The linked contours feature creates anatomical outlines of segmented 3D volumes, and the linked markers feature allows to drawing markers in a 3D volume. Contours and markers are overlaid onto the 2D live image using syngo iPilot, which automatically updates the overlay to reflect C-arm angulation, change of zoom factor or SID, or table movement.
syngo iFlow
An iFlow image visualizes velocity and intensity of blood in vessels by encoding an arbitrary pre-acquired digital subtraction angiography (DSA) run into one color-coded image, all at the press of a button. The colors represent the time of maximum opacification in each single pixel. A comparison of related pre-and post-interventional iFlow images shows the treatment success.
syngo DynaPBV Body
A 3D functional imaging application that provides physiological information directly in the interventional lab. The software indicates the distribution and amount of blood in lesions and surrounding tissue by means of color-coded cross-sectional blood volume maps.
syngo IZ3D Large Vessels
syngo IZ3D enables interactive 3D reconstruction and visualization of vessel segments, including bifurcations, especially suited for stenting procedures. A three-dimensional vessel segment is reconstructed from at least two selected projections. To be used especially for vessel sizes between 3 mm and 42 mm.
syngo QVA
Provides quantitative vessel analysis for abdominal and peripheral vessels.
Interventional Neuroradiology / Endovascular Neurosurgery
Interventional neuroradiology / endovascular neurosurgery focuses on diagnosis and treatment of vascular abnormalities in the brain, including the spinal area. The most common diseases to be treated on the angiographic table include aneurysms, strokes and AVMs (arterio-venous malformations).
Advanced Roadmap
Bringing the most used functionality in neuroradiology to the next level, by allowing
Separate windowing of vessel map and catheter contrast → uncompromised image quality.
Using DSA images as the vessel map in Roadmap → better IQ by lower dose and contrast usage.
Show progress: Obtain a brand new Roadmap at the push of a button (e.g. for Onyx interventions).
syngo DynaCT
CT-like cross-sectional imaging; the Siemens innovation, bringing online soft tissue information to the angio table.
syngo DynaPBV Neuro
syngo DynaPBV Neuro enables assessment of the current perfusion status (CBV) of the brain on the angio table.
syngo InSpace 3D
Sometimes referred to as 3D-DSA, syngo InSpace 3D generates clear 3D images of high-contrast objects like contrast-filled vessels.
syngo iDentify
Sometimes referred to as Dual-Volume, syngo iDentify enables assessment of the relationship of contrast-enhanced vessels and e.g. coils or clips.
syngo iPilot (Live & Enhanced)
Effective guidance during interventional procedures
syngo Neuro Aneurysm Analysis (incl. Virtual Stent)
Fast and easy evaluation of aneurysms, incl. overlay of a virtual stent for easy device implantation.
syngo iFlow
syngo iFlow allows visualization of a complete DSA scene in one color-coded image
Inroom Control
Remote control of the syngo Workplace from the examination room via touch panel and joystick
syngo InSpace 3D Stenosis Measurement
Provides volume analysis for evaluating e.g. the degree of stenosis in 3D (including virtual stent planning).
syngo iGuide
Facilitating efficient needle procedures right in the interventional suite.
syngo InSpace 3D/3D Fusion
Enabling previous CT, MR or PET-CT images to be fused with 3D datasets acquired in the angio suite (e.g. DynaCT).
syngo Embolization Guidance
Enhanced planning for embolization procedures, includes centerline extraction and volume segmentation.
Surgery
Vascular surgery
Today endovascular aortic repair (EVAR) is performed in two dimensions using traditional fluoroscopy. Siemens is leading the technology again and turns EVAR into the third dimensions: EVAR-3D Guidance overlays 3D information on top of live fluoroscopy and stands for optimized C-arm angulations, precise 3D overlay, and guidewire and catheter navigation.
Cardiac surgery
With syngo Aortic Valve Guide, Siemens introduces a new level of valve positioning convenience. Starting with syngo DynaCT Cardiac images as the basis, syngo Aortic ValveGuide supports heart surgeons to perform transaortic valve implantations (TAVI) the most convenient way.
Orthopedic surgery
3D syngo DynaCT imaging supports delicate placement tasks for the pelvis, spine, and other bone structures. The large field of view of the flat panel detectors helps to place long screws in hip fracture cases.
Thoracic surgery
Taking biopsies from small lung nodules to diagnose cancer at an early stage poses an opportunity and a challenge at the same time. The smaller the nodule, the more difficult the biopsy, but the higher the survival rate of the patient. Angiographic imaging in 2D and 3D can now help the physician biopsy the patient quickly and precisely.
Spine surgery
The Artis family provides high-end 3D imaging in the OR to verify the correct placement of screws. Virtually unlimited number of positions and angulations can be stored in the system and be can be re-called by the surgeon during the procedure. This fastens the workflow and reduces tedious interaction with the imaging system.
Neurosurgery
The installation of an Artis system in the OR enables combined endovascular and open surgical procedures for rapid treatment of emergency patients. Technical advancements enable not just CT-like 3D imaging with soft tissue differentiation, but even functional imaging in the OR. Most recently, new acquisition protocols have been developed that provide 3D images in the operating theatre with higher spatial resolution than standard CT scanners.
2-D Echo Vivid S6 GE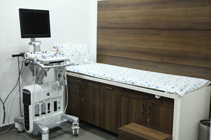 Overview
The ergonomic design and easy-to-use features of Star's Vivid S6 allow you to take workflow and productivity to the next level. Excellent performance through a wide range of applications, consistent image quality, innovative miniaturization, comprehensive connectivity options, and a range of advanced, automated tools make this an exceptional cardiovascular and shared-service solution to meet the daily demands of your practice.
Productivity
Better productivity. Better patient care.
Productivity: Automated options allow for easy acquisition and enhance image quality through a wide range of applications.
Reach: Quantitative tools help you achieve excellent image quality and optimized exam times—for improved productivity and confident diagnoses.
Mobility: An ergonomic design helps reduce fatigue and discomfort.
Compatibility: A wide range of advanced connectivity options helps you streamline your workflow.
MARS Ambulatory ECG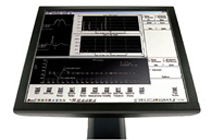 The ability to quickly and accurately predict who is at the greatest risk for Sudden Cardiac Death has the potential to make a real difference in global health.
The comprehensive suite of the GE Healthcare Marquette® algorithms available in MARS Ambulatory ECG system, MARS Enterprise i, and MARS VSL puts the power to predict right in your hands. The MARS system applies the breadth and depth of the various riskscoring analytics to provide physicians with one combined report and enables them to make clinical decisions supported by in-depth, validated information.
24 Hours Holter Monitoring (SEER 1000 )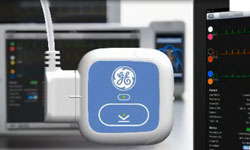 The SEER* 1000 app-driven Holter Recorder utilizes innovative technology to establish patient and physician confidence right from the start.
Real quality doesn't miss a beat.
Every heartbeat sends a vital message, and you can't settle for just getting part of the story. Our latest Holter Recorder, SEER* 1000, is small, accurate, and easy to use. The custom app gives you visual guidance for lead placement and a clear view of signal quality. All of this can reduce the chance for poor data collection. And that may lead to fewer repeat studies.
Benefits
Out of sight. Always in mind.
The SEER* 1000 empowers you to…
Know the patient is properly connected
Know you're performing at a high level of efficiency and productivity
Know you have advanced dependable, yet simple technology
Know you're making every heartbeat of every patient…count
Features
The SEER 1000 family of products offers the following features:
Custom app guides you through the hook-up process, providing you with visual guidance for lead placement and a clear view of signal quality to help reduce the chance of poor data collection
Three different recorders for three different studies; 24 hours, 48 hours, or 3 days. In three different contemporary colors - to brighten your patient's day. And yours
Slim, trim and contemporary, built around the GE tradition of "friendly" design
It's small, comfortable to wear and allows your patients to pursue their normal daily activities, while you capture the data you need
MAC 2000

The MAC 2000 Resting ECG System with the Marquette 12SL analysis program can help to avoid variations in care delivery by standardizing ECG information from the physician office through the hospital.
The system provides proven diagnostic support enabling clinicians to make fast, accurate diagnoses. Its flexible connectivity solutions offer clinicians the data they need to help improve patient outcomes and streamline workflow throughout the continuum of cardiac care.
Benefits
Workflow enhancements with connectivity to EMRs, CS Diagnostic System and the MUSE ECG Management systems, or send reports to a shared directory on a PC
Connectivity with LAN, Wi-Fi, serial port, modem, or SD card
PDF and XML export capabilities
Marquette 12SL ECG analysis program for clinical decision support
Supports paperless workflow with options for bidirectional communication, including an option for orders
Easy-to-read 7" color display is configurable to meet your needs
On-screen preview of 12-lead waveforms and ECG results helps streamline review and diagnosis
Automatic capture of 10-second ECGs with one-touch operation
Hookup Advisor signal quality Analysis Program
Internal storage for up to 200 ECGs
Gender-specific interpretation provides improved sensitivity to Acute Myocardial Infarction in women

Busy clinical practices need streamlined data connectivity
Busy clinical practices need streamlined data connectivity, without the time-consuming complexity. That's why the MAC 2000 is designed to connect with your existing clinical systems, keeping you in touch with your data, your patients, and your practice.
PDF and XML export capabilities
Internal storage for up to 200 ECGs
Connectivity with the CS program—or send reports to a shared directory on a PC
Connectivity with LAN, Wi-Fi, serial port, modem, or SD card
The MAC 2000 can also connect you to the hospital environment. It's your link to productivity, however you need to connect.
Supports paperless workflow with options for bidirectional communication, including orders
Connectivity with the MUSE* cardiology information system for ECG serial comparison
EMR connectivity with PDF or XML reports sent to a shared directory
Communication options include LAN, Wi-Fi, serial port, modem, or SD card

ECG Analysis Programs
Marquette* ECG Analysis Programs are a preferred choice in a variety of care settings and industries, including hospitals, clinics, physician offices, and clinical research organizations (CROs).
Marquette Hookup Advisor* Signal Quality Analysis Program makes our world-renowned ECG analysis program even better. This software reviews and measures ECG waveforms for signs of artifact and interference, advising clinicians of poor waveform quality during ECG recordings
Marquette 12SL* ECG Analysis Program for adults and pediatrics is one of the industry's most thoroughly documented, simultaneous 12-lead ECG acquisition analysis programs (Optional for the MAC 1600)
12SL with Gender-Specific Interpretation features criteria that help you more easily detect acute myocardial infarction (MI) in female patients, enhancing diagnostic confidence
Auto-arrhythmia Detection maximizes rhythm capabilities and minimizes paper consumption and over read time

GE Healthcare Diagnostic Cardiology products and systems
GE Healthcare Diagnostic Cardiology products and systems enable you to access the data you need, whenever and wherever you need it.
Our ECG management solutions — EMR Gateway, CS Diagnostic System, and MUSE* Cardiology Information Systems — are compliant with open database connectivity (ODBC) and provide seamless connectivity to your facility's HIS and EMR. With them, you gain the advantages of enhanced administrative workflow, automatic billing and charge capture.
The MAC 2000 connects to your EMR system through a shared directory or the CS Diagnostic System. And connectivity with MUSE and CS can help you increase departmental productivity and reduce errors. The MAC 2000 quickly sends and receives complete patient ECG data for immediate review of over read.
MUSE currently has more than 925 individual interfaces to HIS/EMR vendors, including:
Cerner**
Centricity** Cardiology Data Management System
eGate
Iatric Systems
Keane**
McKesson**
Orion Health
Siemens Soarian**
VA CPRS
Cloverleaf**
Eclipsys**
Epic**
Centricity Enterprise (formerly IDX Carecast)
LUMEDX**
MEDITECH**
Siemens INVISION**
Tenet**
VA Vista Imaging
24-hour ambulatory BP monitoring (ABPM)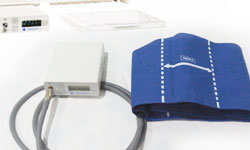 Ambulatory Blood Pressure Monitoring (ABPM) is when your blood pressure is being measured as you move around, living your normal daily life. It is normally carried over 24 hours. It uses a small digital blood pressure machine that is attached to a belt around your body and which is connected to a cuff around your upper arm. It small enough that you can go about your normal daily life and even sleep with it on.
Computerized Tread Mill Test (TMT)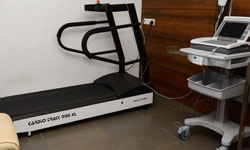 A stress test, often times called a treadmill test or exercise test, helps a doctor find out how well your heart handles work. As your body works harder during the test, it requires more oxygen and in effect the heart must pump more blood. The test can show if blood supply is reduced in the arteries that supply the heart. Treadmill test (TMT) or exercise stress test is one of the commonest forms of stress tests used to induce provokable myocardial ischemia for diagnostic evaluation of coronary artery disease. The Tread Mill test is conducted on an extra long treadmill to provide an extra margin of safety to patients. Its smooth and silent operation facilitates accurate blood pressure measurements even at high workloads. The variable speed range permits diagnosing of patients with varied health backgrounds.
Department
Consultants
Consultation Day/Time
Dr. Bhavesh Thakkar
Paediatrics Interventional Cardiologist
Monday to Saturday - 10:00am to 8:00pm
Dr. Anand Shukla
Interventional Cardiologist
Monday to Friday - 5:00pm to 8:00pm
Dr.Tarun Madan
Interventional Cardiologist
Monday to Saturday - 10:00am to 8:00pm
Dr. Jay Shah
Cardiologist
Monday to Friday - 5:00pm to 8:00pm
Coronary angiography, Coronary angioplasty, IVUS, FFR, Rotablation
24x7 Primary angioplasty, BPV, BMV, Coarctation stenting, carotid plasty
Peripheral angiography, Peripheral angioplasty, TEVER, EVER, DVT Interventions
Pseudoaneurysm, Device closure, Pacemaker device implantation & EP study